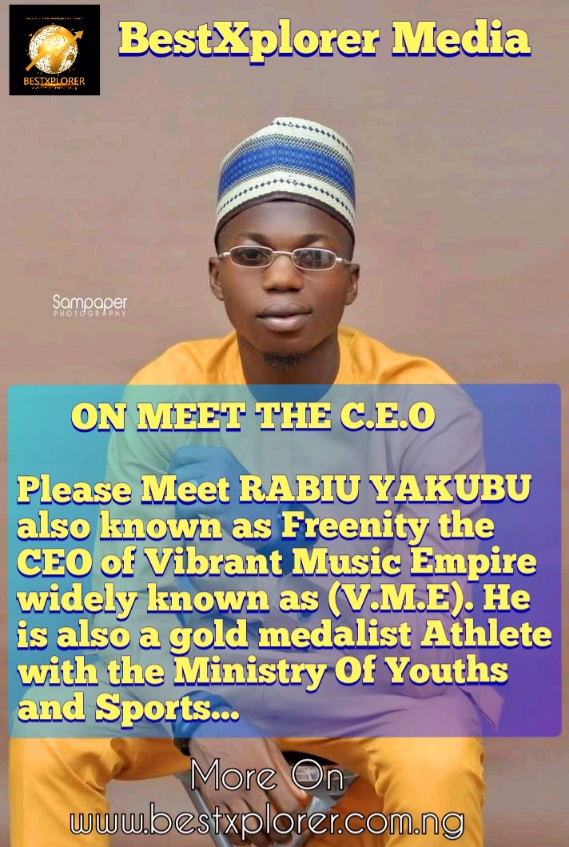 On BestXplorer Program "MEET THE C.E.O"
We are happy to Introduce To You The C.E.O Of Vibrant Music Empire (V.M.E), FREENITY An Active Entertainment Brand.
To our readers and loyal BestXplorerians please meet USMAN RABIU YAKUBU also known as Freenity the CEO of Vibrant Music Empire widely known as (V.M.E).
The young and active CEO is a student with the prestigious Nasarawa State University Keffi of the Department of Psychology.
Freenity also happens to be a contract athlete with Nasarawa State Ministry Of Youth, Sports And Development. He has won so many gold medals for the state as an athlete. JUDO happens to be his sport.
Freenity has shared with BestXplorer on how he started as a CEO and how he met his artistes.
READ HIS WORDS BELOW…
I was a lover of entertainment and by then I was together with my brother BCD Bhoy as I always help him during shows and publicity. When I was admitted in 2016 at Nasarawa State University, Keffi that was when I met Cherry and she sends me her recorded song of which she titled "Fall For You" in the year 2017. But then the queen, Cherry refuses to start music proper until when she graduated in 2019.
Thereafter Snix6 came on board because he always wanted to work with me because of my kinda moves and my relationship with the Entertainment World.
And in the year 2020 I called the attention of Cherry, BCD Bhoy and Snix6 where I asked them if they would love and are ready to work with me and behold all of them accepted to work with me.
During our first meeting that was when I came up with the name Vibrant Music Empire (VME) because my artistes were all Vibrants and Music was in their DNA 😂.
V.M.E was unveil in January 14th, 2020 with my artist Cherry, BCD Bhoy and Snix6.
But as times goes on due to some personal issues that was beyoung my control, I had to drop one of the artiste which is Snix6. Now VME is left with only two artistes Cherry and Bcd Bhoy.
Last last I am a member of Nasarawa Entertainment Crew (N.E.C) and I serve as the Lafia coordinator.
Thanks