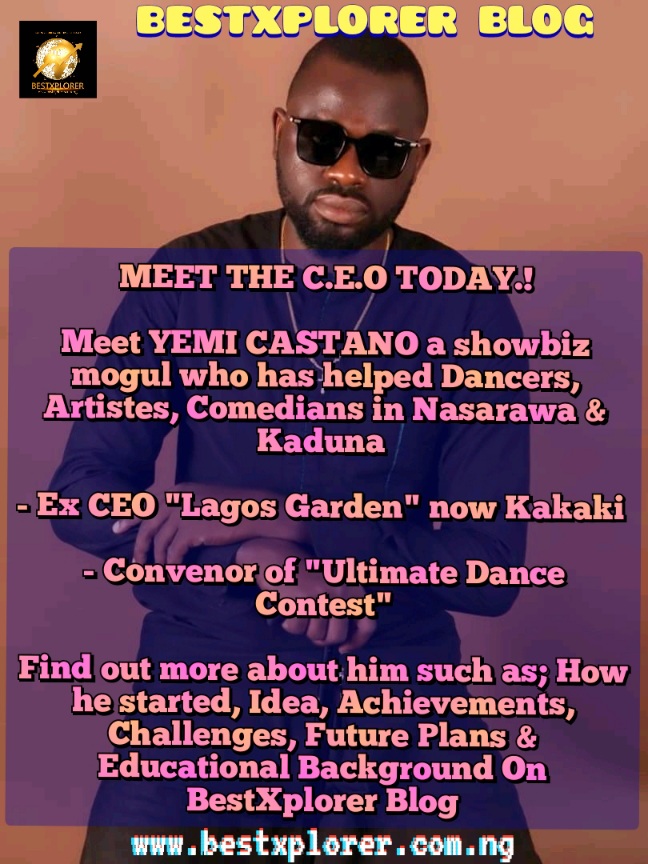 To our humble readers and Bestxplorians. Today on "MEET THE C.E.O". Please meet Yemi Castano an entertainment mogul who has in one way or the other changed or shaped entertainment in Nasarawa and Kaduna. He has however helped lots of Dancers, Artistes and Comedians in the above mentioned states as well.
BestXplorer has reached out to him where he shared his experiences with us on how he came up with the idea of starting his brand, how he got into entertainment, the challenges he faced from the grassroot, his Achievements among others.
He was the Ex CEO of "Lagos Garden" now "Kakaki" in Akwanga, Nasarawa State. And the Convenor of the popular Contest in Northern Nigeria, the "Ultimate Dance Contest"
READ ALL THAT HE SHARES WITH US BELOW:
BestXplorer: Can you please let us know how you came up with the idea of starting up your brand?
Yemi Castano: I started my brand out of boredom, when I was transferred by my company to work and live in Akwanga. It was a small town with basically nothing happening much on the events side.
Much more so, I was also concerned about the high rate of social vices among Akwanga youths and thought about I could impact and drive a postive change.
Lastly, I started my brand because I need something on the entertainment side to promote my bar business in Akwanga then, which everyone now knows as Kakaki in Akwanga. I was the previous owner when it was called "Lagos Garden", and later gave the place to the Kakaki brand
BestXplorer: Quite interesting, what year was that?
Yemi Castano: The year was 2017 and of course the purpose was to first get myself entertained, help the youths, and then promote my bar business
BestXplorer: What can you say was your achievement(s)
Yemi Castano: The achievements? My event, the Ultimate Dance Contest changed the landscape and standards of events in Nassarawa state. After the 2018 edition that I brought in Danfo Drivers, no one wanted to do a substandard show anymore. Matter of fact, no one would pay for a show that wasn't properly organized, after Ultimate Dance Contest happened.
Furthermore, my brand became a strong platform that promoted lots of dancers, artsites and comedians in Nassarawa State
BestXplorer: What are the challenges you faced, because such sacrifice and achievements must have comes with challenges.
Yemi Castano: Challenges? When I first came to Nassarawa and started my brand, lots of youths had secret resentments for me, being an outsider. The mindset of many of the youths then , isn't the same as now. Yes I got lots of support from people, a few of these guys I can never forget, Charles of Cueray TV, Mac Fab, Mc Nappy, DJ Starboi, just to mention a few. However the industry was filled with dangerous boys and girls with toxic minds who wanted to harm my brand by all means. But then, I always knew my ambition was bigger than their ignorance and I would soon move to conquer a bigger coast.
Anyway, the other challenge I faced was funds for sure. I built my brand out of my salary and no one gave me shishi, except the N10,000 Hon. Makpa Malla dashed me through Mac Fabolous. No brands in Nassarawa state could part with money to promoted entertainment, so he'll yeah, I did it myself.
BestXplorer: This is heart touching but inspiring too. What is your future plan or expectation?
Yemi Castano: I have a policy, "Do something big and do the next one bigger. If it's not bigger than the last one, then don't do it".
It's simple for me, am a very ambitious man, I am thinking big and far. I can no longer do things at the usual standards. My next move is in the pipeline, and it's gonna resonate all over the industry. Until then, let's keep our fingers crossed
BestXplorer: Can we have a glance of your educational background?
Yemi Castano: Bsc Economics
– Lagos State University (LASU)
Msc Marketing
– University of Lagos
( UNILAG)
MBA E-commerce
– Nexford University, Washington DC
BestXplorer: Thank you so much for the time.
Wishing you more achievements ahead.
You've done well for Dancers, Artistes etc in Nasarawa and Kaduna. Thumb up sir.
---
To our readers this will be all for this episode of "MEET THE C.E.O". Stay with us as we bring another guest. Remember next can be you!