In view of the ongoing battle with the second wave of global pandemic (Coronavirus), the Kaduna State government through the state's ministry of health has recommended the immediate suspension of schools resumption across the state. The statement is contained in a new document signed by the commissioner of health, Dr. Amina Mohammed Baloni and released through the ministry of health.
It could be recalled that the infection prevention and control team constituted by the state government has earlier suggested the 21st or the 25th of January for the resumption of schools in the state. However, the state ministry of health has cast down the proposed dates urging the authorities to wait till after the readiness assessment is carried out in some sampled schools across the state. The ministry alleged that the compliance with the Covid-19 safety protocols is far below average hence, more measures needed to be in place for safe reopening of the schools in the state.
Attached below is the official document from the ministry: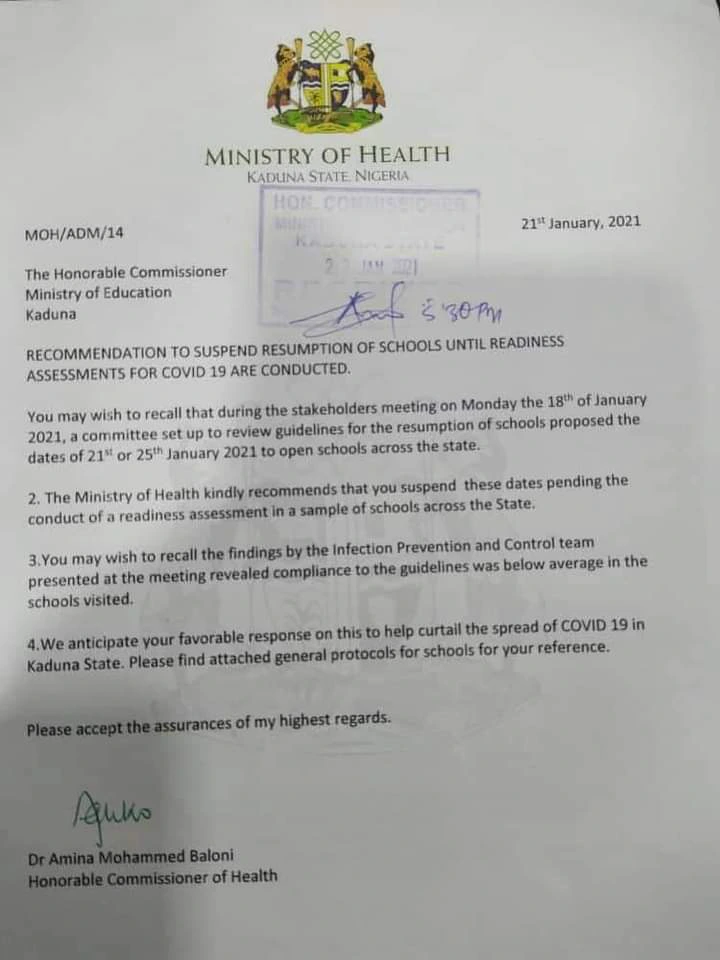 Meanwhile, the federal tertiary institutions in the state such as Kaduna Polytechnic, Ahmadu Bello University, Zaria and others are also subjected to state's approval for reopening of classes for academic activities. The report has it that a team of inspectors from the state ministry of health has carried out inspections in some federal institutions who are ready for resumption.
I would also share with you the general Covid-19 safety protocols as released by the state government through the state infection prevention and control team.
Read below: