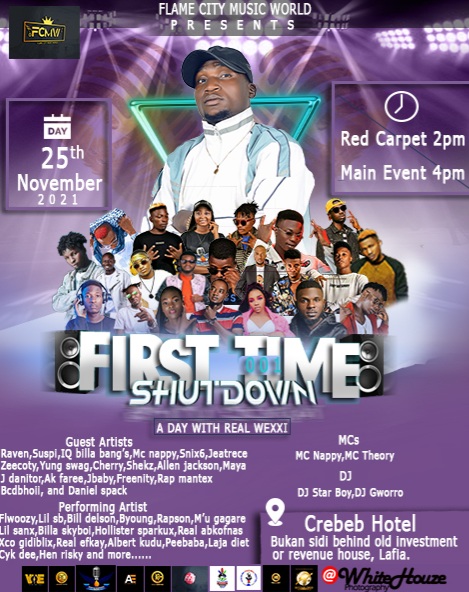 Real Wexxi of Flame City Music World is about to shut down the city of Lafia, Nasarawa State with an amazing and blazing event coming up this November.
The event is more of a musical concert put together by Real Wexxi with guests appearances by his musical allies or friends all around the state.
The night will be a night to always remember as Flame City Music World and artiste Real Wexxi made a promise.
It features guest artistes such as; Raven, Suspi, IQ Billa Bang's, MC Nappy, Snix6, Jae Trace, Zeecoty, Yung Swag, Cherry, Shekx, Allen Jackxon, Maya, J Danitto, AK Faree, JBaby, Freenity, Mantex, BCD Bhoy and Daniel Sparkz.
There will be a promising performances from B-Young, Bill Delson, Rapson, PeeBaba, Xco Gidiblix, Cyk Dee and more…
Date: 25th November, 2021
Time: Red carpet 2:00pm and main event 4:00pm
Venue: Crebeb Hotel Bukan Sudi, behind old investments or revenue house.
DJs: Star Boy, Gordon
MCs: Nappy, Theory.